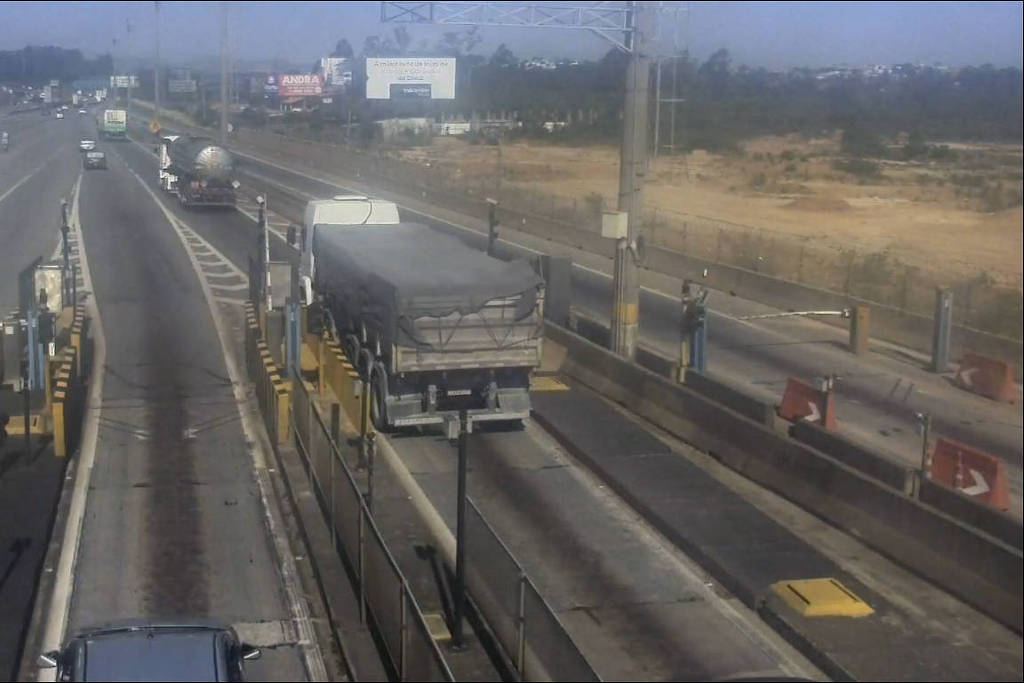 The Military Highway Police detained a 45-year-old driver on Monday afternoon (27), on the Ayrton Senna highway, in Mogi das Cruzes (SP), after he went straight through the toll gate of the automatic payment system.
According to Ecopistas, the concessionaire that manages the state highway, the truck approached is suspected of having committed 418 evasions between January 2020 and September 2021, generating an amount of R$7,713 in debt.
The company that owns the truck presented proof of toll payment at the police station.
"The identification was made possible with the use of equipment installed at the toll plaza, such as cameras that read the vehicle's license plate through automatic character identification [OCR]", said the dealership in a note. "The information was passed on to the police," completed the text.
According to the Department of Public Security, military police officers who attended the incident were informed that the truck had a device that allowed the passage of tolls through automatic payment and that the driver did not know what was wrong.
According to the police report, the driver said that he was instructed by the company that owns the truck to continue the transport if the cancellation did not open, as "the company makes payment".
Representatives of the company, headquartered in Guarulhos (Greater SP), were called to the police station and confirmed that the vehicle has a device for opening the toll gate and payment, and that they were instructed by the service provider that, in case they are unable to pass through the gate, which could continue, as the highway concessionaire would notify it, which would be passed on to the company that owns the vehicle.
Thereafter, proof of toll payments were presented to the police during the preparation of the incident.
According to the SSP, the driver will be investigated and the case has been registered as a vehicle location/seizure. The investigations will be forwarded to the 2nd Police District of the municipality.
According to the police, the truck was arrested because there is a Civil Police blockade in Itaquaquecetuba, also in Greater SP. As there was no tow truck to tow the large vehicle, it was taken by the truck driver, with police escort, to the yard.
The report was unable to contact the owners of the truck and the defense. According to the police report, a lawyer from the company who monitored the incident said that any fines received in previous periods were duly appealed to the DER (Department of Highways and Highways). And that there is a provider that owns the device has proof of toll payments.