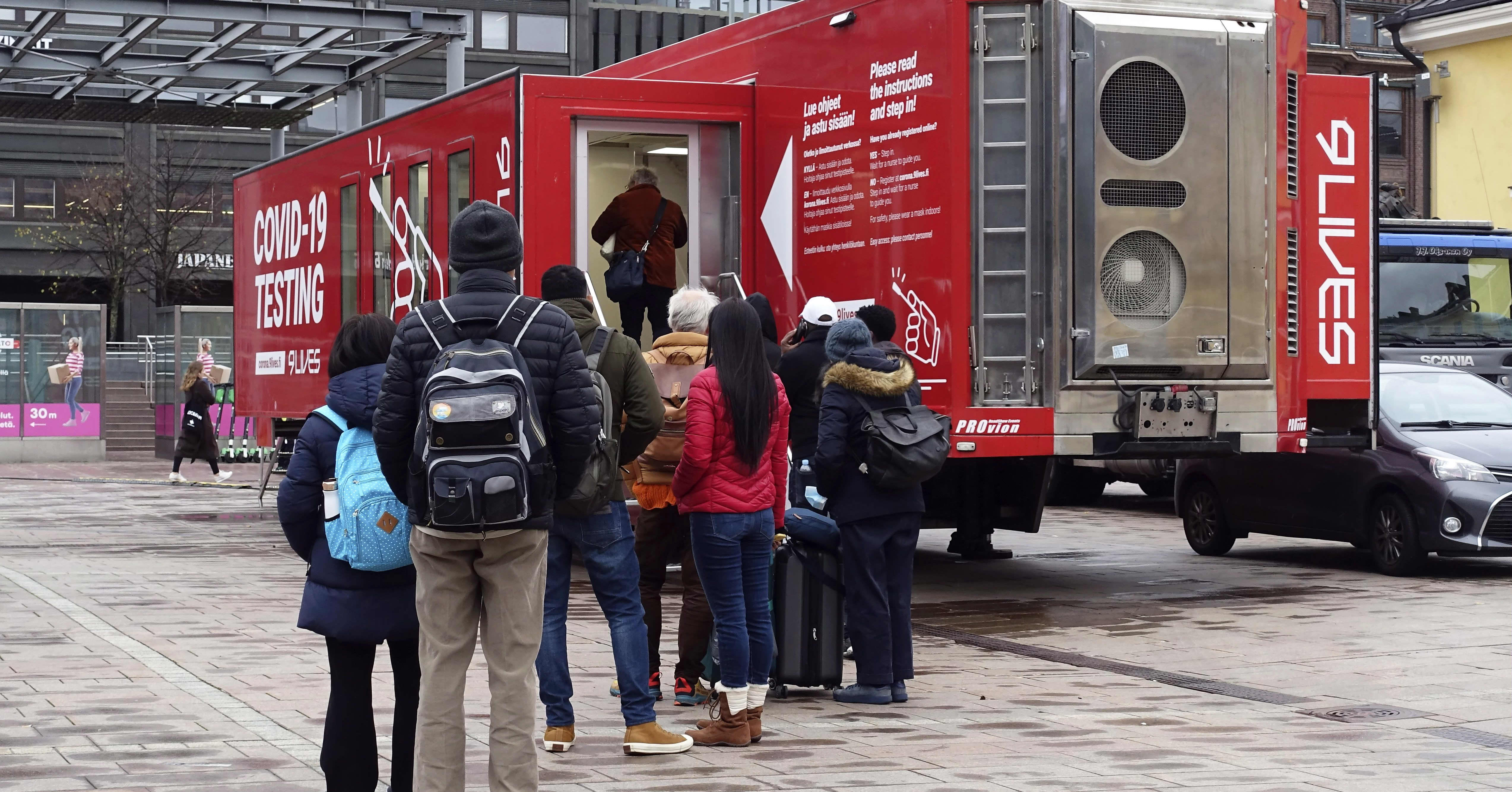 When all people with mild symptoms no longer have to go for a test, the number of tests has dropped dramatically. "It is understandable that repair shops are needed," says STMA's Liisa-Maria Voipio-Pulkki.
Tulikukka de Fresnes, Annika Martikainen
The number of corona tests fell sharply after the government's new corona strategy was introduced in September.
For example, 77,600 corona tests were performed during wartime week 42, in mid-October. In week 36, at the beginning of September, the number of tests was 122,000 and at the end of August, the number was 172,000 tests per week.
Efforts have been made to reduce testing so that it does not overburden hospital district staff.
Hospital districts and municipalities have targeted testing, for example, at risk groups for severe coronary and non-vaccinated individuals.
Department of Health and Welfare THL project manager Anna Katz described the drop in test numbers as "dramatic" on Thursday, and director of strategy at the Ministry of Social Affairs and Health Liisa-Maria Voipio-Pulkki "brisk".
Did the new strategy reduce testing too effectively?
– It is understandable that corrective actions are needed, that a suitable level can be found, said the strategy director for the situation. Liisa-Maria Voipio-Pulkki from the Ministry of Social Affairs and Health on Thursday.
– If we look at the situation in the whole EU, testing in Finland is very much at the same level as in many other EU countries, says Anna Katz.
Voipio-Pulkki: The type of test used could be changed
The number of tests has risen somewhat from the October trough. Last week, 95,200 tests were performed in Finland. The aim is to further increase testing somewhat, Voipio-Pulkki says.
– We are now looking for a somewhat higher amount of testing, which must also be seen from the perspective of the regions' resources, Voipio-Pulkki says.
– The appropriate amount of testing is not a figure carved in stone, so it will definitely be reviewed in the future, ie adjusted according to the situation, says Katz.
Even with scarce resources, the number of tests could be increased by using tests that bind less staff.
– It is possible that the testing strategy will be updated, for example, with regard to the types of tests used, Voipio-Pulkki adds.
At present, Finland mainly uses the PCR test, which according to THL (switch to another service) the most reliable but laborious test method. Antigen tests, on the other hand, are simpler because they do not require laboratory personnel. The result of the antigen test is completed in 10 to 30 minutes and is almost as reliable as the PCR test.
In early November, the THL issued new guidelines that make less laborious antigen tests suitable alongside PCR tests.
Head of Department, Ministry of Social Affairs and Health Taneli Puumalainen now places the responsibility for changing testing on social and health actors.
– Sote operators decide which testing method is most suitable for any purpose, says Puumalainen.
The proportion of positive samples is 6.2 per cent
A sufficient number of tests is bracketed by the proportion of positive test results. Due to the reduction of testing for mild symptoms, ie the tightening of the screen for access to the test, the proportion of positive results has risen to 6.2 per cent.
– The percentage has remained reasonably low after targeting, so there is little cause for concern. It is to be hoped that this percentage will be further reduced, says Katz of THL.
According to experts, the high proportion of positive test results serves as a measure of whether there is a lot of coronavirus circulating in society that cannot be caught by testing.
According to the national interest rate strategy, positive test results should be between 3% and 3.5% in order to meet the testing targets.
– This is a demanding goal for many areas at the moment, for which the aim is to achieve a sufficient scope and appropriate targeting of testing, Voipio-Pulkki states.
According to Taneli Puumalainen, in the longer term, the aim should be for the proportion of positive test results to be less than 3.5 per cent.
– It is important for the management of the epidemic that there are few infections in the population that are not identified and whose further infections cannot be prevented by isolation and quarantine measures, says Puumalainen.
Katz: People under the age of 12 should not be tested abundantly
Right now, not all mild people are advised to take the test. THL recommends (switch to another service) coronary tests, primarily for those who have not been vaccinated and have received a single vaccination, and for those at risk of severe coronary heart disease if they have been exposed or have symptoms. People under the age of 12 do not always have to take a corona test when they become ill.
According to Katz, extending testing requirements to children under 12 would not curb high rates of infection. Compared to about 670,000 unvaccinated adults, the proportion of people under 12 is small.
– The age groups of 5-11 are quite small. That number is not a factor in maintaining the epidemic, but the most important thing would be to get unvaccinated adults to take the vaccine.
In the late autumn, many other respiratory diseases will be rampant, and there is room for testing.
– Test capacity needs to be released for these as well, as Korona is not the only virus being tested. Excessive testing of children is not necessary, especially when the disease is rarely severe in 5-11 year olds, Katz sums up.
The debate is open until 11 p.m.